Wally and Mike will share a short set playing guitar and mandolin, respectively. All original tunes by Wally!
Kicking off the week long "Buzzfest"--solo! My first show as a (re)new(ed) Silver City resident!
Great to return to the Tranquil Buzz!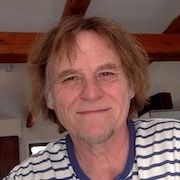 Wally Lawder's earliest memories are of being shipwrecked as a toddler on the shores of Borneo. The sole survivor, he wandered into the mountains where, after a long period of feral life, he was discovered by the elders of  an indigenous tribe. Here he learned many mystical secrets; the musical nature of the local dialect helped shape the unique approach to songwriting which he utilizes even to this day. A chance meeting with anthropologists set about a sequence of events which led him to spend several years on an estate in the Scottish Highlands where he relearned the English language and cultural traditions. While there he discovered a deep affinity for Celtic and Brit-pop music. Following an apprenticeship with Keith Richards, an education at Oxford and a period of world travel, he came to America. He has become well known in certain circles for his work with the terminally ill and the homeless, as well as for his legendary romantic adventures. It was with this background that he launched his career as a singer-songwriter.

At least that is one version of the story...

In another version, Wally Lawder was born in Kansas and grew up in Connecticut. Music was always playing around the house, and between his parents and older siblings it was diverse! Rockabilly, classical, jazz, early folk, Broadway soundtracks, the British invasion, Johnny Cash. His first song was written as a preteen on the piano (in a self-taught, hunt-and-peck manner) based on the style of Thelonious Monk. His childhood instrument was the trumpet and he didn't take up guitar until well into his teens. Songwriting in earnest began much later in life.

His eclectic life path has led him to work as a nonprofit catalyst, carpenter, alternative energy consultant/technician, holistic educator and rehabilitation specialist, not to mention a brief, but strangely memorable, stint as a waiter in an Australian themed Karaoke bar. All of these experiences and more have been inspiration for his muse. In the late 1990's his songwriting began to flourish. "I really took a liking to performers like John Gorka, Ellis Paul, Patty Larkin, Susan Werner, Bruce Cockburn. "I could relate so much to their songwriting and was inspired to write my own." Since that time he has been a prolific songwriter with 6 CDs of original music including the latest release, Not Enough Time.

From Connecticut Wally moved to Princeton, NJ for a number of years until landing in New Mexico in 2003 He moved to Tucson, Arizona in 2012. He was the winner of the 2010 ACLU Southwest NM songwriting contest, a finalist in the 2009 Tucson Folk Festival Songwriting Contest and winner of the 2008 Gila River Songwriting Competition. Pulitzer Prize winning poet Stephen Dunn wrote: "Wally Lawder is both a romantic and a social critic, and his quiet lyricism heightened by his gifts as a guitarist gives me great pleasure."

Wally performs solo and with various ensembles: duos, trios and full band. Most recently his band is a changeable bunch known as The Stragglers, and he performed in Tucson for a number years backed by several Tucson musicians under the name Acoustic Sky. He occasionally still performs with his New Mexico band the Raptured Coyotes. Formerly he performed as part of the ensemble Papillon. He is passionate about continually creating new music, and occasionally dreams of misty mountains in Borneo.
Acoustic Sky, the stragglers and other projects!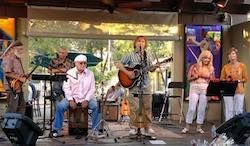 On a stormy night in Katmandu several strangers sought shelter at an inn. Traveling independently of one another, they shared this in common: they had all been kidnapped by insurgents and left at the foot of the city with little more than the clothes they were wearing. The innkeeper, sympathetic to their plight, offered "I would love to extend lodging to such unfortunate travelers as you, however I do not have much and count on my small earnings from lodgers. Is there something you could give, some service you could do, that would repay me?" One of the strangers noticed a collection of local folk instruments in the lobby, walked over, and began to play. Then, one by one each of the strangers picked up an instrument and joined in. Guests descended into the lobby to listen; passersby stepped in from the street. As the scene unfolded, people began to hum, clap, even dance. The innkeeper smiled.
It is nice think that Acoustic Sky began that way, and perhaps it did. At any rate...
Tucson is blessed with many fine musicians, and Wally is equally blessed to have some of them back him in many of his shows, most recently under the name Acoustic Sky as well as The Stragglers. These ensembles began after Wally arrived from New Mexico, originally named The Wally Lawder Experience. More recently, Acoustic Sky was made up of Jim Dumbauld on bass,Tom Potter on percussion, along with Suzy Ronstadt and Kathy Harris on backing vocals and Mike Markowtiz on mandoin. Early members included Stefin Zephyr on bass, Jim Lipson on percussion and Peter Altshul on lead guitar. The Stragglers are the most recent incarnation, randomly comprised of any of the above plus other talented guest artists drawn from the rich Tucson music scene.
Wally occasionally performs in various duos, trios and other ensembles as the occasion asks for, sometimes under creative names.
When in New Mexico, Wally reunites with his former bandmates (Martyn Pearson, Roger Metcalfe and others) to perform under the names Wally Lawder and the Raptured Coyotes as well as Art Rock and the Petroglyphs.